ANDERSON SILVA VS MICHAEL BISPING FEB. 27TH 2016: I PREDICT THAT ANDERSON WINS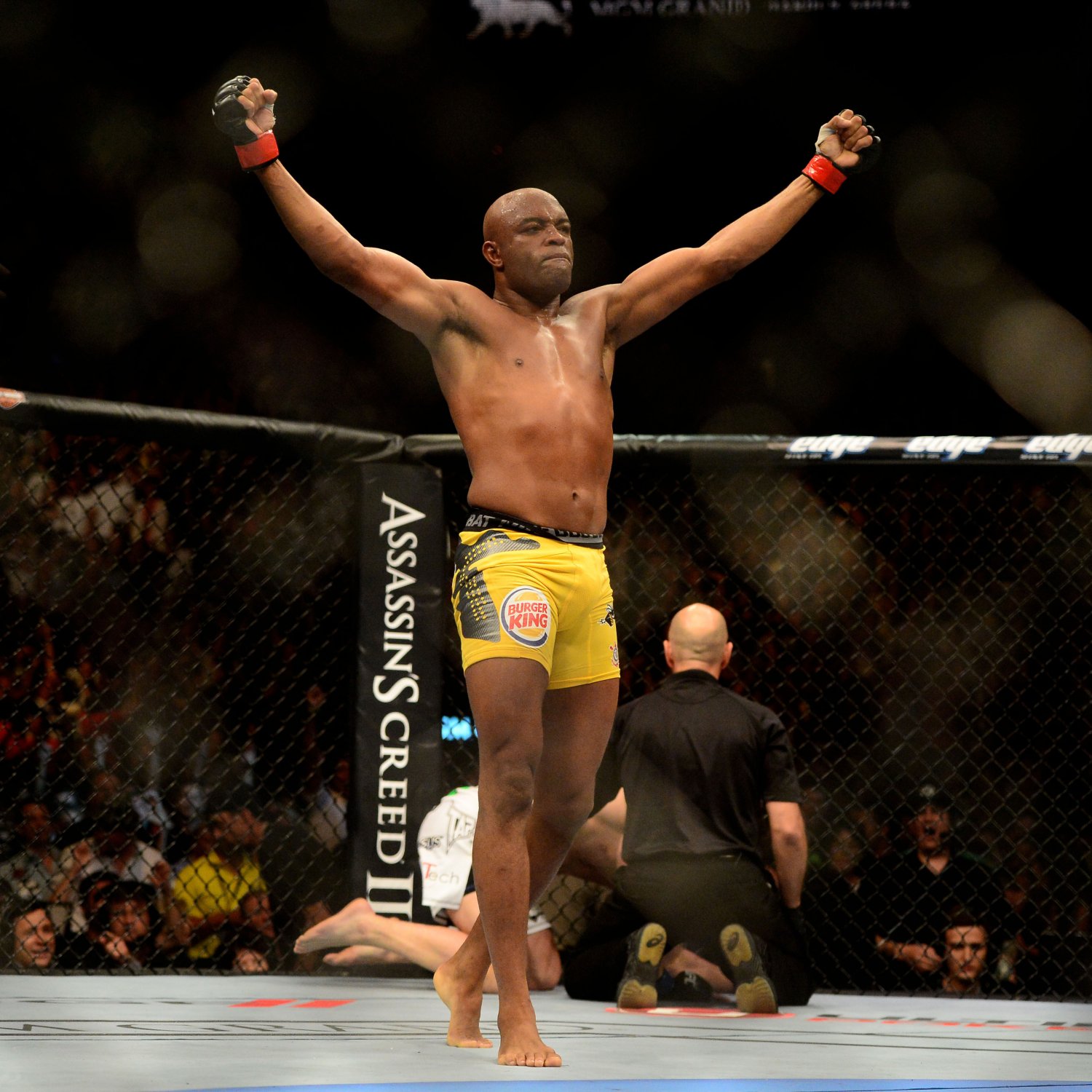 Okay. I got hundreds of emails from my thousands of followers asking me about Anderson. Since I am currently sporting a 88% accuracy prediction rate in the last 5 years with everyone except for my manz Benson Smooth Henderson, who I love but who keeps screwing up my prediction rate by losing matches I picked him to win, and winning matches he should not have won [ the Edgar fights come to mind ].
Anderson Silva, currently ranked #4 in the UFC MW rankings, will, imo, defeat Bisping, and is only one fight away from hunting for the title. I predict that his next fight...after defeating Michael Bisping...will be against Machida, Belfort, or the loser of Rockhold-Romero. But we all know how arbitrary the rankings nad fights are i nthe UFC, so...we will all have to wait and see what Dana and Joe Silva decide.
So let's take a look at the fight between Michel Bisting and Anderson "The Spider" Silva. And it's a better fight than many of you might think it is. First up? Let's analyze what kind of fighter Michael Bisping is.
Michael "The Count" Bisping is a solid MMA guy, rnaked #7 in the UFC MW division. He trash talks a lot, but he never makes excuses when he loses. He has earned everything that he has gotten. Win or lose.
He is a striker who has good cardio and has added wrestling takedowns to his arsenal, so he is a real fighter. Riding a two fight winning streak against C.B. Dollaway and Thales Leites, Bisping has the opportunity to get three straight wins in a row in the UFC if he can vanquish the Spider. To my knowledge, Bisping has never won three fights in a row against ranked opposition in the UFC.
But as game as the brash Brit is, as active as he has been in comparison to Anderson Silva...I see no skill set that he has that can overcome the still formidable MMA arsenal of Anderson "The Spider" Silva, the man widely considered to still be the MMA G.O.A.T.
In my opinion, after watching Bisping fight...his best chance at beating Anderson is to rely on pushing the pace. Cardio. Staying in Anderson's face wit hstrikes and regularly shooting takedowns. Working gnp and standing back up again.
But even then? His chances are slim. Bisping would have to fight the perfect high paced, angle moving, repeated takedown shooting, gnp lashing, and back up to his feet fight against the still smooth, still slick, still quick and dangerous 41 year old Brazilian. And I just don't see it happening. Here's why:
STANDUP GAME
DEFENSE
Defense is probably the second least appreciated category of any conflict, especially in the still growing and sharpening skill sets of MMA strikers. However. Silva's accomplishments in this area are gaudy. In the history of the UFC, he is the second LEAST hit striker...trailing only a prime Lyoto Machida.
The still as yet underappreciated in MMA by most fans are the fine tools of the master striker. : head movement, footwork, entering and exiting via angles and circles, feints, fakes, jukes. Distance control, Octagon generalship. The art of not getting hit, and using the impenetrable shield of defense to psychologically frustrate one's opponent and mire his offense in fecklessness.
As Anderson showed as recently as his last outing against Nick Diaz, he can literally stand in front of you, grab you by your neck...and slip, deflect elude punches that you throw at him. As he has aged, he doesn't look to have lost his physical abilities, and looks to seem to be sharpening the subtleties in his skill sets that would both prolong his career and prevent him from suffering another catastrophic injury like he did vs Weidman in their rematch. Imo the best defense against strikes is the sweeping/unbalancing/tripping/takedown game that simply takes standing strikes totally out of the equation, and allows the takedown expert to determine where the fight takes place. The second best is to be very elusive like Anderson is.
To put it bluntly, Bisping has nowhere near the gaudy defensive acumen that Anderson Silva displays, and has suffered several brutal knockouts, knockdowns, and heavy blows to underscore this fact.
Advantage:
SILVA
FOOTWORK
THE ROCKET FUEL FOR OFFENSE, DEFENSE, AND TRANSITIONING SEAMLESSLY BETWEEN THEM
Now, I would be remiss if I made the mistake that many pure sport combatants make and overlook the key that genuinely separates footwork for sports combat and real world, universally effective self defense for [ wherever ] training. What mistake is that?
Sport combatants are by and large intensely ignorant of , don't have enough respect for and don't spend enough time with the utterly vital and in my opinion the completely indispensable area of
STANCE TRAINING. But the brain cells of most of you simply are not yet ready for that discussion. Not yet. But I will return to this topic in later blogs.
When Anderson is on, nobody in MMA is better...not even T.J. Dillashaw, as those of us who have been watching this sport since its inception already know. Those of us veteran watchers of this sport and practitioners of the self defense arts remember that both Anderson Silva and Cruz did the fluid creative footwork thing first. Imo Dillashaw's footwork is better than Dominic Cruz's footwork and Dillashaw will win their fight, but Silva's footwork is better and more effective than both of theirs. The only person whose footwork and defensive accomplishments equal or eclipses Anderson's is again...a prime Lyoto Machida.
And again. Bisping is nowhere near being close to being a threat in this area, either.
Advantage:
SILVA
MMA STRIKING
Bisping is not one of those whose striking acumen. is rooted in the MMA Big 4: boxing,kickboxing clinch, dirty boxing. While Bisping is again better than most MMA strikes in the sport today, he is not a knockout or even stunning/dazing threat to Anderson.
Conversely, Anderson has skill sets that not only mark him as one of the best ever in EACH of the MMA Big 4, he has skill sets that stretch a ways beyond the MMA Big 4 Striking Skill Sets. His breadth and depth of striking arsenal, his fluidity, his creative combinations, are legendary. Many have become adopted by other fighters and in turn become required or standards. His clinch work has been closely studied and emulated throughout the game. Anderson it was who was the first to use The Oblique Kick with success...not Jon Jones.
He also used the rising instep kick first:
and all manner of other techniques...like the infamous Anderson Elbow shown @1:43 of this video below:
Because of his tremendous versatility, speed, and experience, Anderson can lay back and snipe Bisping, pressure Bisping and outpoint him, or if Bisping initiates or finds himself in aggressive exchanges or clinches with Anderson for any reason...Anderson can still shut Bisping's lights off. Particularly if Anderson returns to his fluid, combination throwing, creative striking game. In July 2015, Bisping had a back and forth affair with the improving, but somewhat battered Thales Leites. Conversely, Anderson completely clowned Leites in a creative but lopsided display at UFC 97. However...and too many people forget this...the Leites fight was one of several times that Anderson showed that his premier striking skills allowed him to ground n pound even the best wrestlers and jiujitsu men. Leites, let us not forget, is a brazilian jiujitsu Mundials champion There is simply nowehre in the Striking Game that i can see Bisping having an advantage against Anderson.
Advantage:
SILVA
WRESTLING
Offensive Wrestling:
This category will be the shortest and easiest analysis here. Regarding offensive wrestling, Bisping has the advantage merely because he has used offensive wrestling far more times in the cage than has Anderson. Surprisingly, Anderson has a very high takedown percentage. The few times he attempted takedowns, he was almost always successful...probably due to a combination of sheer shock on the part of his opponent [ "Anderson can wrestle and is trying to tak me down? What da hell?!" ] as well as Anderson's skill in this area [ remember his sweet switch out on Nate Marquardt and his takedown of Chael Sonnen, even when Anderson's ribs were broken? ].
Therefore, in the category of Offensive Wrestling, I think even Anderson Silva will concede that its:
Advantage:
BISPIN
G
Defensive Wrestling:
Defensive Wrestling is way more than The Sprawl. It's distance control, it's footwork, it's positioning. It's knowing how where and usually when a wrestler is going to shoot that takedown. It's scrambling up from the takedown and denying further takedowns [ in this case, without needing strikes to punish the wrestler ]. It's that all important Timing acumen. That intelligent reading of another person's intention, then the correct, intelligent application of razor honed skills to doom the takedown to failure.
In this area, Anderson is once again one of the greatest of all time. He is so good at this skill, that he will overwhelm Bisping's attempts to take Anderson down. Anderson can essentially force Bisping [ and most other grapplers with far better takedown games than Bisping has ] to engage Anderson in the area they don't want to be...that's a striking game with the GOAT.
Advantage:
SILVA
But what's even worse for Bisping, is that if he does get Anderson to the ground, he might find himself contesting with Anderson in:
GROUND GAME
JIUJITSU
Anderson is a black belt under the Nogueiras, and has a potent bjj game. He can work with and avoid being submitted by almost all of the very greatest submission experts of the game. All of the wrestlers & bjj guys who were supposed to dominate Anderson on the ground and submit him failed to do so...and most of them failed to get him on the ground in the first place.
Against Bisping? Let's put it this way. Bisping better not be stupid enough to rely on a submission win or dominating bjj style against Anderson, or he will be finished in 2 rounds or less. And trust me, friends, Bisping isn't that stupid.
Advantage:
SILVA
Which leads us to...
GROUND N POUND
Some of my friends...especially my Brit friends...think I'm nuts when I say this, but to me this is very obvious and very simple. Do you want the GOAT pounding on your head, one of the fiercest strikers with an impressive resume of knocking out many top flight MMA strikers, a man who could have fought K-1 back when K-1 was the home of murderous strikers that would level any MMA striker...or would you rather have Bisping punching you with gnp.
I'd rather have NEITHER of them giving me gnp, but if I had to had to had to allow one of them to be in my guard, mount, sidemout, whatever and start the gnp? It's Bisping. /Bisping might knock me out. Anderson might kill me. It's that simple.
Advantage:
SILVA
So why should we watch this fight, if it's so clear that Anderson has the prohibitive advantage pretty much everywhere?
Good question. The answer is: It's the fight game, so there's always SOMETHING we didn't know that's gonna happen. In this case, the unknown quantity is the tantalizing reality that we don't know which Anderson is going to show up.
Will the murderous tyrant of the middleweight division return? The Spider that ruthlessly crushed world class strikers in standing, submitted world class wrestlers and highly regarded bjj men, and scoffed at all others before beating them senseless or dominating them into irrelevance?
Or will Father Time have finally caught up with the elusive Spider, as He catches up with us all, eventually?
My opinion? I think that we will see an improvement on the Silva that shoed up and beat Diaz, but we WONT' see the MurderDeathKill tyrant of the past. And the Silva we will see is going to take a clean win over Bisping, even in Bisping's home country of England, and backyard of the O2 Arena.
Supposing that I'm right and Anderson DOES beat Bisping, then who's next? I think Dana will try to make Anderson fight Machida, Belfort, the loser of Rockhold-Romero, or possibly Jacare. Out of those names I just listed? I see Belfort and Romero as the leaders. Why? Anderson considers Machida and Jacare to be brothers. He is extremely reluctant to fight either of them, and neither of those fights are especially marketable on top of all that. However, the storylines in a Silva-Belfort 2 rematch are strong, and Anderson will take that fight. The less likely fight to happen...but which Anderson will take...is against Romero. Because a fight with Romero is the guaranteed harbinger of a MW championship fight, and Anderson is till the strongest MW draw right now. Luke has a chance to be a PPV draw, but he's nowhere near as established as Anderson is. However, a Rockhold-Silva match is PPV strong, if not gold. It'll definitely crack 500,000 sales and will probably reach 750,000+ if hyped properly. And believe you me...it will be hyped. And Luke will talk that trash of his, too.
So Anderson is quietly but very seriously getting back into the MW title hunt. Two wins from now and he is GUARANTEED a shot. That's my opinion.
EDIT: Michael Bisping is also trying to stake his claim to a shot at Rockhold's MW title should some catastrophe twice as horrendous as Armageddon strike AND Bisping acquire every drop of divine grace that God could possibly muster and bestow on one being [ even more than He gave to Jesus ] should he somehow manage to defeat Anderson. I don't think he will,
but he is confident that he will defeat Anderson, and will serve him a dose of his permanent reduction of respect for Anderson in the process.
What do you think? Write your thoughts in the comment section below.