MY NJIA UHURU VS CARDIO CAPOEIRA: THE TRUTH THAT CARDIO CAPOEIRA FEARS
Who is teaching the REAL self defense skills and the REAL art...My Atacx Gym's NJIA UHURU or Cardio Capoeira Angola, or Cardio Capoeira Moderna? Let me make this really simple for you:
When the police are kicking us like this:
Cardio Capoeira Angola teaches us this:
Even the best of the modern muscular fit Cardio Capoeira masters and their students teach us this:
My NJIA UHURU teaches the real history immediately, and the real self defense authentic skills @7:00 in this video here. Only skills like my NJIA UHURU will save you from real attacks:
When racist police in Brazil murder our children
CLICK HERE TO READ THE ARTICLE AND SEE THE VIDEO OF POLICE IN BRAZIL KILLING OUR CHILDREN
Cardio capoeira moderna in Brasil teaches us this:
Capoeira Angola teaches us this:
Again. The videos above are totally, totally useless for self defense. And if they're totally useless for self defense, they CAN'T BE THE REAL SKILLS OF MY ANCESTORS because my ancestors WON THE FIGHT AGAINST SLAVERY AND POLICE.
I teach the real skills. Here is just one example:
The Bureau of Justice and Statistics on violent crime compiles stats since 1973 that says that in America? Men and boys are more likely to be robbed, killed, and/or victims of violent crime than women and girls are.
CLICK HERE TO READ THE STATISTICS ON WHICH GENDER IS LIKELY TO BE VICTIMS OF VIOLENT CRIME
I realize...and more and more criminals are beginning to realize...that because most women and girls are not subject to violent attacks, our women and girls are least likely to learn to defend themselves against almost any kind of violent attack. They are nearly perfectly trained to be victims.
That's why THIS happens:
What do Mestres of Cardio Capoeira Angola teach us, to defend ourselves against this kind of crime:
Capoeira Moderna teaches us this:
Notice how the more realistic they get, the more they look like me. Here are the outstanding bruthas of Righteous Science:
However. I teach you exactly what to do. Right away, you can see that my NJIA UHURU is the real deal. I show how to get out of the choke, and many other things in this video here:
Here the police use clubs, flash bang grenades and fists to break up the Occupy Wall Street Movement:
This is cardio capoeira teaching defense with sticks:
Once again, my NJIA UHURU teaches the real skills:
I wasn't going to address the liars and whatnot in Cardio Capoeira...[ Cardio Capoeira is the Brazilian exercise and dance activity flavored with faux Afrikan culture, run by large corproations whose leaders are White Brazilians that have zero interest in the Afrikan perspective on anything. Cardio Capoeira is a bastardization of the real Afrikan skills and the real Afrikan styles of Afrika that does not belong to Brazil, but instead is the birth and blood right of all Afrikans worldwide, not just continental Afrikans; in precisely the same way that say...Taekwondo...is the legit cultural heritage of all Koreans worldwide, wherever they live ]...because my videos and my teaching already outs them for the mixed group of misinformed people, racists, liars, chauvinists [ why aren't there WAY MORE female Mestres, considering that the overwhelming majority of "new" Cardio Capoeira students are women? Answer: the rich White Brazilian men don't want numerous female Mestres. ESPECIALLY BLACK FEMALE MESTRES. Racism AND sexism ] and basically greedy money grubbing historical revisionists that most of them of near Mestre rank are.
The students, however, are totally different for the most part. The students have been largely naive, and honestly believed that their beloved Mestre was telling them the truth about he activity that they loved. Also...the Mestres of Cardio Capoeira want to target mostly the Fitness, Gymnastics, and Dance Community [ FGDC ]. Why? Because the FGDC is much, much larger than the average group of people who are interested in self defense, and the FGDC has the money to pay the fees for classes. Also, the FGDC aren't really interested in full range self defense. They want to learn movement more than they want to learn self defense skills. That fits the Cardio Capoeira Mestres perfectly, who are experts in exercise and movement...and not proficient at all in self defense.
Except. Even the most ardent of students eventually see that there is no self defense to be had in ANY of the teachings of their Cardio Capoeira Mestres. I really get into the proof and truth of that discussion, here:
So let me make this simple for you.
First? The word "capoeira" is a MISAPPLICATION BY, MISUNDERSTANDING OF, AND MISPRONOUNCIATION FROM THE RACIST SLAVE OWNING PORTUGUESE AND BRAZILIANS of the KiKongo [ language of the Kongo, a former Kingdom and now country in West-Central Afrika ] word KIPURA, or KIPULA. Got it? THIS AFRIKAN ART IS NOT BRAZILIAN, AND SHOULD NOT BE REFERRED TO USING BRAZILIAN WORDS.
Here is the proof, as provided by K.K. BUNSEKI FU KIAU, THE BEST AND GREATEST SCHOLAR IN THIS SPECIFIC AREA OF STUDY IN THE HISTORY OF THE WORLD. Dr. Fu Kiau is the recently departed great scholar from and of The Kongo.
CLICK HERE TO READ AN EXCERPT FROM THE SCHOLARLY WORK BY MAYA TALMON-CHVACIER: "THE HIDDEN HISTORY OF CAPOEIRA", AND ITS QUOTE OF THE GREAT DR. K.K. BUNSEKI FU KIAU
Second, "Capoeira Angola" is a DOUBLE MISNOMER. That means that it's doubly wrong, and so is anybody using the word, and claiming to teach the art. The word "Capoeira" is actually "Kipura". The term "Angola" is ANOTHER gross misunderstanding and misapplication by the racist Portuguese and Brazilians. "Angola" is the racist Poruguese and Brazilian misunderstanding, mispronounciation and mispaplication of the word "ngolo". The word "ngolo" has four meanings:
1. It is the name for the TITLE OF OFFICE of the leader [ king or queen ] of the Mbundu people whom the Portuguese miscalled "Angolans".
2. It is oftentimes used when the time for combat has come during part of the Omuhelo. The Omuhelo is the name of a public and/or private ritual and rite of passage for young men to prove their worthiness to find and keep a wife.
3. It is the name of the fighting system used by the Mbundu and all people in that region. The important point is this: The Kingdom of Ndongo is actually founded by members of the Royal Family of the Kingdom of Kongo who left Kongo for political reasons. Therefore, the Mbundu and the Kongolese are cousins. Their fighting arts...Kipura and Mbundu Ngolo...are also very similar.
4. "Ngolo" also means "power, strength".
CLICK HERE FOR THE DEFINITION OF N'GOLO. NOTE THE EXCELLENT SCHOLARLY WORKS IN THE FOOTNOTES CITED AS PROVING THE DEFINITION OF "N'GOLO"
Never did our ancestors refer to our art as "Capoeira Angola". Benedito, the teacher of Mestre Pastinha, never referred to the art as "Capoeira de Angola". Mestre Pastinha made up that name..."Capoeira Angola"...in order to distinguish his style of N'golo from the Kipura [ Regionale ] of Mestre Bimba.
And. There are many different styles of Mbundu Ngolo...THOUSANDS of styles. Mestre Pastinha DID NOT make up all the styles called after the 1940's "Capoeira Angola". Mestre Pastinha only made up HIS interpretation of "Capoeira de Angola"...and gave HIS STYLE the name "Capoeira de Angola". He is simply the most well known name connected to "Angola Capoeira". And remember...99% of the REAL "Capoeira" guys could NEVER get public because they are "criminals" merely by the reality of practicing "capoeira" OF ANY KIND. Most ESPECIALLY "Capoeira de Angola".
Mestre Pastinha WAS NOT TEACHING A FIGHTING SYSTEM. According to Mestre Decanio [ a close student of Mestre Bimba, and also both a close friend of Wilson Lins and editor of Mestre PASTINHA's book written in Mestre Pastinha's own hand: "NOTEBOOK AND ALBUM OF THE SPORTING CENTER OF CAPOEIRA ANGOLA" ], Mestre Pastinha: "...was the first
popular capoeirista
to analyze capoeira as a philosophy and concern himself with the ethical and educational aspects of its practice." According to Decanio, one of the major differences between Pastinha and Bimba's students was that Pastinha saw capoeira
as a means of physical exercise, not self defense exclusively or primarily,
whereas the students of Mestre Bimba saw the art as a practice done largely in solitude or with close friends/fellow students. Its techniques were to "be hidden, guardedly secretly, for surprise [ against an opponent ] in an hour of necessity".
This means that...contrary to the words that they say...the followers of Mestre Pastinha ARE NOT SELF DEFENSE PRACTITIONERS. And this reality clearly explains the general lack of self defense skill pervading "Capoeira de Angola". However. Authentic practitioners of authentic Regionale ARE self defense practitioners. Unfortunately, there are very very few of them left.
The research and thorough documentation done in this book below removes any doubt as to the truth and accuracy of my comments.
The most important thing about my NJIA UHURU, Kipura, and Ngolo...is that first and foremost? WE ALWAYS FOUGHT. SELF DEFENSE IS THE #1 CONCERN OF THE AFRIKAN CREATORS AND WARRIORS OF THE AFRIKAN ART. Choke defenses, weapons, bone breaking, chokes, strangles, wrestling of all kinds [ Ijakadi, Eleme, etc. ], Animal Styles, Elemental Principles...you name it? We not only have it in our fighting styles...we are the first human creators of it.
By contrast, you can spend 25 years in any or all of the forms of Cardio Capoeira and NEVER SEE A SINGLE REAL WORLD, MODERN, EFFECTIVE SELF DEFENSE TECHNIQUE. This again underscores the obvious reality: these people do not train or know or want to train or know the authentic art. No matter what they say to the contrary. Instead, they want to dance and do exercise. This is why the art is mostly lead by middle or upper class White men. And these men want to tell you that it's perfectly reasonable to see and accept White men from a lineage that is directly the enemy of the art as the legit leaders of fighting systems of Black Afrika.
That's like accepting the European merchant, rapist and slavemaster as a blood Afrikan who is a King in Afrika, master warrior, and freedom fighter for Afrikan slaves. That is like accepting the Chief of the Police as the legitimate blood heir to the leadership of and master teacher of all the criminal gangs in his or her city. Such things are literally impossible, in the real world. The existence and definition of the one state of affairs immediately refutes and repudiates the possibility of the second state of affairs.
But if they want to practice Cardio Capoeira [ Cardio Capoeira is an activity which can and oftentimes IS ALSO A BUSINESS selling exercise and social activities ], which IS a Brazilian invention? THAT'S FINE. THEY HAVE EVERY RIGHT TO DO THAT. Congratulations.
What they DON'T have the right to do, is claim the warrior and self defense lineage of my ancestors and/or my family. They DON'T have the right to COOPT ANY INVENTION, PRACTICE, OR EXPRESSION OF AFRIKANS.
How can the Brazilian or Brazilian lineage Cardio Capoeira people legitimately claim to be the legit inheritors and masters of the literally legendarily awesome fighting techniques my ancestors used to free ourselves from slavery worldwide [ please don't tell me that you believe that we Afrikans were manumitted due to some great moral wakening of the slavers? If slavers had any form of great morals, they wouldn't've engaged in slavery in the first place. The reality is, that in literally every single case, we have always fought our way to freedom whenever and wherever slavery ended; and that includes in the USA ]...when they don't know, show or want to learn, know or show how to fight? How can they legitimately claim to be masters of the self defense techniques of my ancestors [ which they were forced to admit by Afrikan and Afrikan-American scholars is actually from Afrika, rather than their preferred lie of its origins being in Brasil ] when they don't know or teach self defense? How can they freely admit on the one hand that Afrikan slaves SUCCESSFULLY fought for their freedom using our fighting techniques on the one hand...and yet never ever show or know any actual self defense techniques that are even remotely viable in the real world?
The answer is: they can't know anything they claim to know...because they never learned it and don't want to learn the real self defense focused art like that of my family's NJIA UHURU or the historical Kipura and Ngolo. These people are business people who lie to you in order to get you to pay them for classes that will never teach you the truth about anything. BUT. These classes WILL get you into good shape. Because they specialize in doing exercises [ which they also stole from the Afrikan fighting system of my family and my ancestors ].
So...yeah. They suckered you. Tricked you. And are taking your money, RIGHT NOW.
Let's make this even more simple.
Here are three great leaders who history proves are masters of the Kipura, and/or Ngolo fighting systems.
THE INVINCIBLE, UNBEATEN QUEEN NZINGA
Almost certainly the greatest, most brilliant, and most able exponent of Mbundu Ngolo [ later drastically miscalled, misunderstood and misapplied as "Capoeira Angola ] to ever live [ yes, she was greater than Zumbi dos Palmares ], Ngolo Ginga Mbande of the Kingdom of Ndongo [ frequently misnamed QUEEN NZINGA ] was a supreme genius and badass who used every weapon available...from sex to poison...to annihilate her enemies. In battle, she was entirely invincible. She personally led her troops from the front in war, all the way to her 60's...and won a series of victories so compelling that the Portuguese and every other European and even Arabic power dared not confront her further. She was known to kill 25 armed men [ European or Afrikan, whosoever pissed her off ] at a clip. By herself. With no help. And with a horrifying ease. One of her most staggeringly legendary battles was the battle of Kabasa. With consummate cunning, daring, intelligence, courage, and timing, she descended from her mountain fastnesses and engaged the enemies near and at the portuguese controlled vital area of Kabasa.
Nzinga completely. Utterly. Eradicated any and all opposition.
This last battle essentially fully routed the Portuguese, and they had no other recourse but to sue for peace.
They acceded to each and every demand of Ginga and her two [ only slightly less lethal ] sisters, who were also fearsome and legendary in every regard. She not only one sidedly thrashed beat down and crushed the Portuguese [ and everyone else ], she declared her kingdom to be a slave-free zone. As such, she received thousands of Afrikans fleeing the tyranny of slavery all around them. And she remained Ngolo. Undefeated. Undisputed Mistress of her Land...until she died at the unheard of age of her middle 80's in the 1600's. And even in death, she made history:
"...
For the first time in Ndongo history, an all-female led government ruled and when Nzinga died at 82 her sister succeeded her. Nzinga was buried with her leopard battle skins and her bow. Nzinga was a warrior from childhood to the grave."
FOR MORE ABOUT NZINGA MBANDE, CLICK THIS LINK
NGOLO NYABINGHI AKA TAHTAHME AKA QUEEN NANNY OF JAMAICA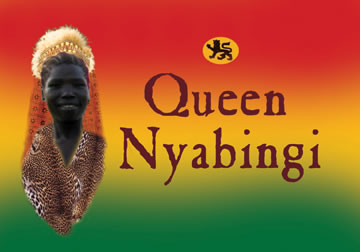 Here's a quick breakdown of Queen Nyabingi:
Nyabinghi, the "hidden queen" fought to free Africans from English slavery and rule. Also called Queen Muhmusa or Tahtahme, she inspired the Nyabinghi underpinnings of Rastafarianism.
Nanny of the Maroons was born in Ghana, and folk history says that she came to Jamaica with the express purpose of becoming a high priestess and leader of her people, never having been a slave. She was an obeah-woman who led the eastern Maroons based in Moreton, and forged an alliance with another group led by Cudjoe. (The name Maroons comes from the Spanish cimarron,meaning "gone back to the wild.")

The Jamaican Maroons were the first people to force the English to sign a treaty with their subjects, on March 1, 1738. The lands conceded in this treaty formed a base for the Maroon's independent survival. One of these communities was named Nannytown after the female Ghanaian leader. Maroon country was so feared by the English that it became known as the "Land of Look-Behind."
TO READ MORE ABOUT THE GREAT LIONESS NYABINGHI, CLICK HERE
CUDJOE OF JAMAICA [ YES, HE IS THE ONE WHO IS SO FIERCE AND BRILLIANT THAT THE STEPHEN KING STORY "CUDJO" WAS PROBABLY NAMED AFTER HIM ]
Cudjoe, the great, incredibly brilliant and invincible warrior. He later became husband to the beautiful Queen Nyabingi. According to history:
"...

There is one thing more worth mention, which is that Morgan, the buccaneer, whose deeds of shameful cruelty at Panama we have described, became afterwards deputy governor of Jamaica, as Sir Henry Morgan, which title was given him by King Charles II. It is not easy to know why this was done, unless it be true, as was then said, that Charles shared in the spoils of his bloody deeds of piracy. However that be, Morgan, as governor, turned hotly upon his former associates, and hunted down the buccaneers without mercy, hanging and shooting all he could lay hands on, until he fairly put an end to the trade which had made him rich.
Let us come now to the story of the Maroons, that nest of fugitives who made things hot enough for the English in Jamaica for many years. When Cromwell's soldiers took possession of Jamaica few or none of those warlike Indians, who had given Columbus so much trouble, were left. In their [199] place were about two thousand negro slaves, and these fled to the mountains, as the Indians had done before them. There they remained in freedom, though the English did their best to coax them to come down and enjoy the blessings of slavery again, and though they tried their utmost to drive them down from the cliffs by means of soldiers and guns. In spite of all the whites could do, the negroes, ''Maroons," as they were called, long preserved their liberty.
In 1663 the British, finding that they could not master the warlike fugitives by force, offered them a full pardon, with liberty and twenty acres of land apiece, if they would yield. But the negroes, who were masters of the whole mountainous interior, where thousands could live in plenty, chose to stay where they were and not to trust to the slippery faith of the white man. And so it went on until after 1730, when the depredations of the negroes upon the settlements became so annoying that two regiments of British regulars and all the militia of the island were sent into the mountains to put them down. As it proved, the negroes still held their own, not one of them being taken prisoner, and very few of them killed. They were decidedly masters of the situation.
At this time the chief of the Maroons, Cudjoe by name, was a dusky dwarf, sable, ugly, and uncouth, but shrewd and wary, and fully capable of discounting all the wiles of his enemies. No Christian he, but a full Pagan, worshipping, with his [200] followers, the African gods of Obeah, or the deities of the wizards and sorcerers. His lurking-place, in the defiles of the John Crow Mountains, was named Nanny Town, after his wife. Here two mountain streams plunged over a rock nine hundred feet high into a romantic gorge, where their waters met in a seething caldron called "Nanny's Pot." Into this, as the negroes believed, the black witch Nanny could, by her sorcery, cast the white soldiers who pursued them. As for old Cudjoe himself, the English declared that he must be in league with the devil, whom he resembled closely enough to be his brother. And they were not without warrant for this belief, for he held his own against them for nine long years, at the end of which the Maroons were more numerous than at the beginning, since those who were killed were more than made up by fresh accessions of runaway slaves.
It is certain that the British soldiers were no match for Cudjoe the dwarf. Retreating warily before them, he drew them into many an ambush in the wild defiles of the mountains, where they were cut down like sheep, the waters of the "Pot" being often reddened with their blood. From many of the expeditions sent against him only a few weary and wounded survivors returned, and it became difficult to induce the soldiers to venture into that den of death..."
And let's throw in Zumbi of Ngolo Janga, miscalled "dos Palmares". Zumbi is the most famous hero of "capoeira" in all of Brazil, with the great Besouro following in popularity. Descriptions of Zumbi and his war skills are as follows:
"
The colonial authorities and the king of Portugal himself repeatedly tried to offer the new head a similar agreement to what they made with Ganga Zumba, but Zumbi never accepted the agreement. In the early 1690s, the
bandeirante
(1) Domingos Jorge Velho was called and received the mission to lead an expedition to hunt down and exterminate at once the pockets of resistance in Palmares. At the head of experienced killers particularly known for bloodthirsty methods, Jorge Velho did not back off from giving some beatings Zumbi's warriors. In 1692, in a three week battle, a troop of about a thousand men was reduced by half before escaping and seeking refuge in the woods. .."
Now. Does any of the above heroic tales of war, bravery, brilliant intellect, vast spiritual reserves and fighting skill make you think that any of them would use techniques that are the core of the mockery that is Brazilian "Capoeira"?
Does the astonished, amazed, awed descriptions left in the 1570's by Europeans who en masse encountered Afrikan warriors from the Kingdom of Kongo [ the source of all Kipura/"capoeira" ] the Kingdom of Ndongo, led by Ngolo Ginga [ the title held by the king or queen, in this case we refer to Ngolo Ginga aka Queen Nzinga ], whose Kingdom of Ndongo authored the art miscalled "Capoeira de Angola", the fierce war focused tactically brilliant Imbangala, description of sanguar: [ "...all their defense consisted of "sanguar", consisting of a thousand feints, fakes, leaps, twists, dodges, rolls, spins from side to side done with such astonishing agility and prodigious quickness that they easily dodged thrusts from swords, spears, arrows, spears, blows of all sorts..." and even by some accounts Afrikans dodged musket fire in this way...TO READ MORE ABOUT SANGUAR, CLICK THIS LINK ] call this image to mind:
Or does the above descriptions of the "sanguar" movements...the agility, the feints, the footwork, etc...remind you more of movements like a combination of THIS:
When you read of how Queen Nyabingi took guns, knives,clubs and swords from her enemies, and killed them with their own weapons....do you think she did it like THIS:
...Or maybe do you think she did it like THIS:
When the police of Brazil and other racists used guns to murder completely innocent Black preteens...similar to but much worse than the way that the opolice i=here in The United States behave...the Cardio Capoeira of Brazil and everywhere else is totally useless. Look at the real footage of Brasilian police KILLING BLACK PRETEENS in the video below. Caution, this video is NSFW.
CLICK HERE TO READ THE ARTICLE AND SEE VIDEO OF RACISM IN BRAZIL, AND RACIST POLICE KILLING UNARMED INNOCENT BLACK PRE-TEEN BOYS
Here is another horrific truth, quoted from the NPR [ National Public Radio ] article exposing the racism and brutality in Brazil: "...
Brazil is one of the most violent countries in the world. In 2012, 56,337 people were murdered. Compare that to the U.S., where fewer than 15,000 people died violently the same year in a country with 60 percent more people.
But those statistics hide a color-coded truth: Brazil actually has gotten a lot safer for white people. In the past decade, homicides among whites have decreased 24 percent. But among the black population they have increased 40 percent..."
Since the above facts are true, the reality is that "capoeira" in Brasil should be an INCREDIBLE self defense system. Especially since ALL "capoeira" Mestres were legendarily effective against racist police,. So effective were they that even the police admitted in their reports that many. Many "capoeiristas" ...of both genders, even when they were caught alone all by themselves,unarmed... ROUTINELY FOUGHT, BEAT UP AND ESCAPED FROM ENTIRE PATROLS OF ARMED POLICE.
Instead, Capoeira in Brasil looks like this today:
That Cardio Capoeira garbage can't help you when the police use guns to kill you. Now look at what I teach:
The proof and the truth is in the technique. And the proof and the truth is the NJIA UHURU of my family. The proof of falsehood in every way...including the incredibly untrue charges of gaining "cultural' and "spiritual" valuable knowlegdge...is manifestly evident in Cardio Capoeira in everything that it does, claims and is. That simple.